There are many movies that have been made about ninjas, but some of the best are listed below.
The best ninja movies 2023 is a list that ranks the best 30 Ninja Movies of all time.
What is it about ninjas that makes them so appealing to western audiences? To be honest, we don't need to guess the answer since they're really amazing. The ninja, also known as shinobi, is a Japanese martial arts group that goes back to the 15th century. They are still shrouded in mystery and the focus of many myths. The group was originally formed to carry out a range of covert operations, including killings. Fearing damaging their name, they took any job that the samurai did not want.
Their acrobatic fighting techniques are amazing to see, and their weapons lend an extra dimension of excitement and drama to the proceedings. Films about ninjas outside of Japan often overstate the ninjas' abilities for dramatic effect. There are a number of films about ninjas, and this genre of film has a sizable following. If you like action movies, these are the greatest 30 ninja movies of all time.
Mirai Ninja (1988)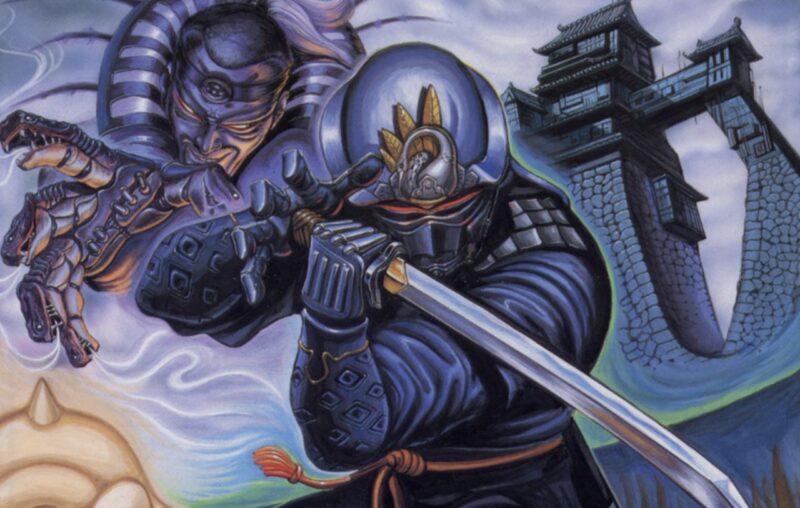 A man's body and soul are stolen and exploited to build a demon castle. Cyber Ninja is all that's left. He forms a team with the chi students, who all wear red cyber-earmuffs.
They reload their swords, grab some neo-retro-cyber-antique weaponry, and attack the disposable ninja squad of demon robots. Whichever team uses the most lavish special effects wins each battle. They destroy the Tron-like hover droids, who are destroyed as a result of their humiliation.
A fight ensues with a white-armored guy with dreadlocks, who is reborn as a consequence of the eclipse and a huge quantity of multicolored lightning. After killing the makeup-wearing effeminate spider person, the chi school shoots a massive gun at the demon castle spider cyber robot.
Samurai Spy (1965)
Between the Battle of Sekigahara and the Siege of Osaka, it takes place between 1600 and 1614. Years of struggle culminate in the Tokugawa shogunate's unification of Japan, but the peace is endangered. Sarutobi Sasuke (Kji Takahashi), a Sanada Clan spy, is at the heart of the story.
Sasuke, tired of fighting, wishes for peace. Sasuke finds himself caught between two opposing spy groups: those working for the Tokugawa Shogunate and those supporting the Toyotomi Clan, when a high-ranking spy named Tatewaki Koriyama defected from the shogun to a rival clan.
Tokugawa Ieyasu's clan was militarily dominating during the Battle of Sekigahara, but it engendered widespread resentment among samurai who had converted to rnin after the battle.
The Tokugawa spies are led by Sakon Takatani (Tetsur Tamba) and Tatewaki Koriyama (Eiji Okada), while the Toyotomi are led by Shigeyuki Koremura (Eitaro Ozawa) and his subordinate Takanosuke Nojiri (Kei Sat).
Mitsuaki Inamura (Mutsuhiro Toura), another Toyotomi spy, approaches Sasuke and tells him that Tatewaki is a code term for betraying Tokugawa and joining the Toyotomi.
Ninja in the Dragon's Den (ninja in the Dragon's Den) (ninja in the Dragon' (1982)
A strong sorcerer is pitted against a ninja and a Chinese martial artist in this Hong Kong play. Since he is also the action choreographer, this is Cory Yuen's first feature film as a director, and he delivers on the action.
He has featured in many American films, including The Transporter, and has directed several Jet Li films. After their teacher is murdered by a terrifying foe, a Japanese ninjutsu master and a Chinese kung fu expert put their differences aside.
The film stars Conan Lee and Hiroyuki Sanada. With roles in Tiger on the Beat and Gymkata, Lee established himself as a genuine action star in Hong Kong. Sanada has a long and illustrious history as a samurai and ninja, having appeared in films such as Twilight Samurai and 47 Ronin.
 The Lady Ninja's Challenge (1982)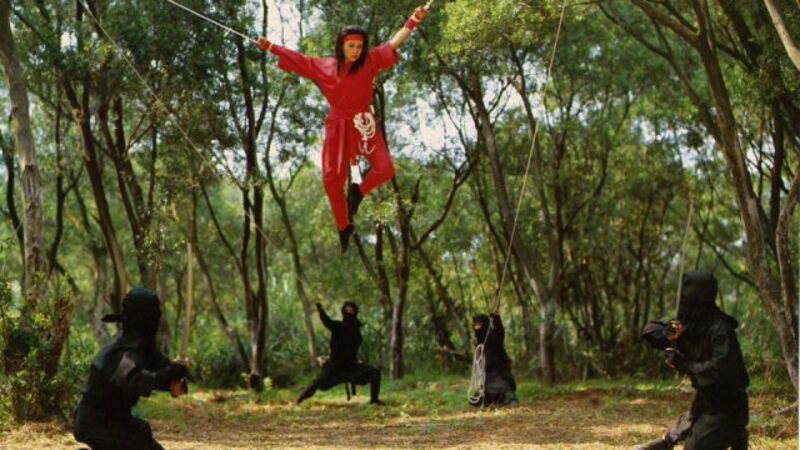 A woman spends seventeen years studying ninja techniques in order to return to China and avenge her father's murder. She gathers a squad of ladies and trains them to be ninjas when she comes. You'd think the people responsible for her father's murder would have been caught after 17 years, but they haven't.
There's crazy action and wire-fu, as well as numerous training sequences in which she trains to be a ninja while torturing and straining her new girlfriends. A long training scenario has her fighting a swarm of ninjas who encircle her with flaming shields.
Shinobi: Heart Under Blade (#26) (2005)
Lord Hattori Hanzou commands the Shinobi soldiers of the Manjidani Koga and Tsubagakure Iga clans to live in peace after more than 400 years of warfare. Both clans hide in the woods and mountains to avoid confrontation and to teach ninjas the Shinobi shadow method.
In 1614, the Lord of the Lords is worried that the clans are posing a danger to his lands' peace, so his advisor devises a Machiavellian plan to kill their best warriors in a fight. Iga Oboro and Koga Gennesuke, meantime, fall in love.
Oboro and Gannesuke are compelled to lead their troops in the final battle of the Shinobi clans when Oboro's grandmother, Ogen, and Gennesuke's father, Danjo, are murdered.
 Ninja, assassins' band (1962)
One of the oldest representations of the ninja may be seen here. It follows Goemon Ishikawa, a rogue ninja, as he fights a warlord who despises Buddhist meditation. It's based on a popular book series, and there will be eight films in all, all of which will star Raizo Ichiwaka. This is only for fans of old-school Japanese samurai films from the 1950s through the 1970s.
A brilliant young ninja named Ishikawa Goemon (Ichikawa Raizo) gets involved in a strange plan to assassinate Oda Nobunaga, a cruel warlord hell-bent on establishing an iron grip in medieval Japan. Deception, treachery, and whole gangs of enemy ninja await Goemon as he traverses the countryside to complete his mission, regain his reputation, and save his skin!
The story may be a bit difficult to follow at times, but there is a lot going on in this film, as is typical of these kind of films.
American Ninja 2: The Confrontation is the twenty-fourth installment in the American Ninja franchise (1987)
Dudikoff reprises his role as Army Ranger Joe Armstrong, who, together with sidekick Curtis Jackson, is entrusted with investigating the disappearances of a group of marines from a military base in a Caribbean paradise (Steve James, regrettably not the rapper best known as 50 Cent).
The kidnapped jarheads are indoctrinated and genetically engineered to create an army of super-ninjas, which means Armstrong and Jackson will have to ninja their way through a full base of brainwashed bad guys in order to blow up the whole operation.
Ninja Strikes Back (number 23) (1982)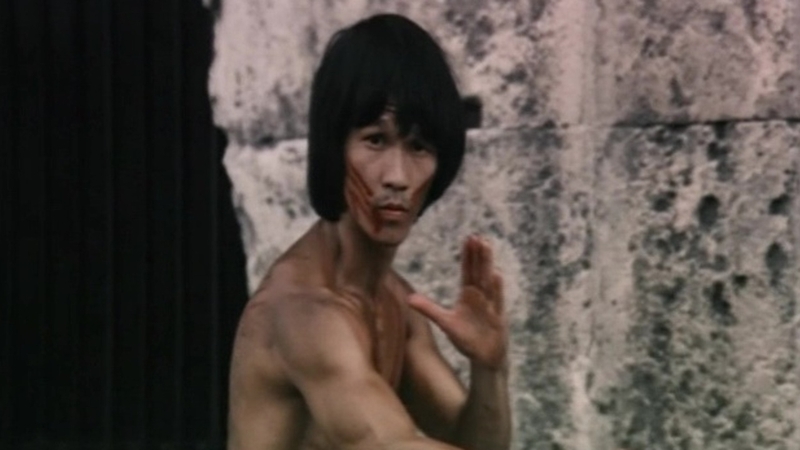 Wang is trying to make a livelihood after serving two years in prison for his participation in organized crime. His former gang members, on the other hand, are on the watch for him.
He is followed through Paris and Rome, where he meets and befriends inspector Pacino, who needs his help recovering the ambassador's abducted daughter and breaking a woman trafficking network run by Wang's former gang members.
When his fiancée Laura is killed by a sniper on the beach, he goes crazy and hunts down his old friend via Hong Kong, only to fight him to the death in the Colosseum in Rome.
 Make a Death Prayer (1985)
Akira Saito is a Japanese businessman who lives in Tokyo with his Japanese-American wife Aiko and sons Takeshi and Tomoya. When the family is given the chance to move to the United States so that Aiko may teach the children about American history, they pack their things and travel to Houston, Texas, where they establish a restaurant.
This is the moment when the issue starts. A group of dishonest policemen conceals stolen goods in the restaurant's backroom, and a valuable necklace (the Van Atta necklace) is sought by a local syndicate, unbeknownst to the Saito family. The syndicate targets the previous owner of the restaurant and, as a result, the Saito family when one of the corrupt policemen chooses to retain the necklace for himself.
After one of the men gets kidnapped by top thug Limehouse, Akira discreetly rescues him. Akira, on the other hand, has had enough when Limehouse runs Aiko and Tomoya down in an effort to steal the necklace. For years, Akira has kept a horrible secret hidden. Akira finally decides to embrace his dark nature.
Heroes of the East (number 21) (1979)
In the 1930s, Ho Tao (Gordon Liu) is a kung fu student in Shanghai. His well-to-do father has arranged for him to marry the daughter of one of his Japanese business associates.
Ho Tao first objected and pretended to be sick, but later agreed to the marriage after learning that the bride-to-be, Yumiko Kda, had offended her whole Japanese martial arts family by issuing an incorrect challenge to her.
Ho Tao thinks her karate style is harsh, unladylike, and perhaps immodest, and tries to persuade her to switch to more feminine yet efficient Chinese kung fu techniques. After becoming enraged during a discussion over which country had the greatest martial arts techniques, she returns to Japan.
In a series of duels against the seven Japanese martial artists who have come to accept the challenge, he must next show the real excellence of Chinese Kung Fu.
The Hunted (number 20) (1995)
Paul is a New York-based computer chip executive on a business trip to Nagoya when he meets a stunning and mysterious lady. Later in the narrative, he finds himself in the wrong location at the wrong time, inadvertently meddling with a renowned Ninja cult's murder attempt.
As the only guy alive who has seen the cult's warrior-face, leader's he soon realizes he has a very short life expectancy. In a two-century-old blood war with the Ninja, he joins forces with a lovely samurai couple.
Finally, he learns swordsmanship and maybe a little about bravery, honor, love, and loyalty while recovering on an island fortress. The inevitable final battle is chock-full of gruesome swordplay and jaw-dropping martial-arts action.
19th vs. 19th against. 19th vs. 19 (1983)
The plot revolves on an annual international martial-arts tournament that ends in a ceremonial battle for national pride between China's and Japan's finest swordsmen, as in many prior ninja-themed films in the genre.
Other masters are being kidnapped by ninjas as part of a nefarious Japanese plan to obtain the secrets of Chinese kung-fu while the two main combatants battle their inner demons on their journey to the tournament.
While the film is best known today for its groundbreaking sword-fighting scenes, in which warriors "double jump" for aerial attacks by sweeping their swords under their feet and pushing off to remain airborne, it was the new-school ninja action that drew the most attention back in the day.
 The Ninja's Revenge (1983)
Cho and his son Kane go to America in search of a new start after his family is murdered by ninjas in Japan. He opens a doll shop and unintentionally brings heroin into the country via the dolls. When Cho learns his buddy has betrayed him, he must prepare for the most important battle he has ever been a part of.
This is the best of the Kosugi Cannon ninja movies, in my view. Kane Kosugi, his son, makes his first appearance, and he impresses with a number of fantastic fighting scenes. Then there's the two-week-long shoot for the final rooftop fight sequence between the two ninjas.
Ninja Fantasy is Number Seventeen.
Ninja Fantasy (also known as Twinkle Ninja Fantasy and Empire of the Ninjas) is one of his most well-known works, owing to a famous scene in which a blue-clad ninja faces a swarm of red-suited attackers who sneak up on him and his lady companion on a desolate beach by transforming into fish.
Ho may have been a master cynic, a strange outsider artist, or both, but his bizarre fighting scenes are undeniably intense, and his distinctive Skittles-colored ninja outfit has influenced everything from Teenage Mutant Ninja Turtles to Mortal Kombat.
Ninja III: The Domination is the sixteenth installment in the Ninja franchise (1984)
The spirit of a wicked warrior possesses a woman with ESP and a love for ancient Japanese culture. The evil spirit of a dying ninja infiltrates the body of a beautiful aerobics teacher.
Her strange interactions with an arcade game, sexual activities with V8 juice, and attraction to an unusually hairy police officer are the extent of her behavioral alterations at first. She immediately transforms into a ninja-style assassin of the officers who killed the ninja, and can only be stopped by another ninja!
 Ninjas of the Five Elements (1982)
The "Venoms" were no longer present. The muscleman Lo Meng was the director's only other original five cast member after five years and more than a dozen films together.
He produced this beautiful, worldwide masterpiece with that one "poison" and his very agile new star Cheng Tien-chi. The students of a renowned Chinese kung-fu school are murdered by evil ninjas (who attack with and from fire, sun, wood, water, and the earth).
The lone survivor is introduced to an instructor and four masters of ninjitsu. The five graduates want retribution. Chang Cheh's strong structure and outstanding kung-fu choreography earned it platinum status (from the lead and co-star Chu Ke).
During his superheroic, grand Guignol period, this was one of the director's most accomplished pictures. It might very literally be characterized as "bloody fantastic" entertainment in any language.
Kamui's Dagger (Chapter 14) (1985)
Jiro, a baby, learns his adoptive family has been killed and is wrongfully condemned. He runs away from Sai and is caught by Tenkai, a monk.
Tenkai takes Jiro in and teaches him to be a shinobi, but Tenkai is not who he seems to be. Tenkai used to lead a rogue shinobi named Tarouza, who was attacked and wounded by Tenkai's shinobi.
Jiro stabs Tarouza with the Dagger of Kamui after Tenkai tells him that Tarouza is the shinobi who killed his family. Years later, he learns who his real mother is, that Tarouza was his father, and that Tenkai killed his whole family.
Tenkai sent his father to look into the mystery behind Captain Kidd's fortune, and he sent Jiro to do the same. Jiro declares his independence from Tenkai, the shogunate's guardian, and sets out to amass riches in order to confront the shogunate's last remnants in the booshin war.
He goes long miles in the hopes of assassinating Tenkai for the crimes he has done upon his family.
Kill Bill: Vol. 1 (Kill Bill: Vol. 1) (Kill Bill: Vol (2003)
The protagonist, called "The Bride," was a member of the Deadly Viper Assassination Squad, which was headed by her lover, "Bill."
When she found out she was pregnant with Bill's kid, 'The Bride' decided to call it quits as a serial murderer. She went to Texas and met a young guy who was murdered by an enraged and jealous Bill on the day of their wedding rehearsal (with the assistance of the Deadly Viper Assassination Squad).
When 'The Bride' wakes up after a four-year sleep, she discovers her kid has vanished. She then vows vengeance on the five people who ruined her life and murdered her child. The first episode of the Kill Bill series is released.
The Octagon is Number Twelve (1980)
After Justine becomes the target of a ninja clan, a seasoned martial arts expert named Scott James (Chuck Norris) is recruited to defend her. When Scott discovers that his violent archnemesis, McCarn, is connected to the cunning and deadly criminals, he is determined to revenge previous wrongdoings. In an effort to destroy the whole ninja horde, Scott is faced against McCarn and the entire ninja horde.
There are two kinds of flashbacks that bother Scott. To begin, he remembers his early memories of the arduous training he and a friend underwent under the supervision of a martial arts instructor. In the second, Scott is on a quest that ends with him seeing his friend's death.
Scott is gradually drawn closer to The Octagon, a vicious criminal organization. As he gets closer to the truth, Scott realizes that they might be the people responsible for his friend's death years ago.
The Killer Elite (#11) (1975)
Friends George Hansen (Robert Duvall) and Mike Locken (James Caan) work as contract killers for the CIA-affiliated Com-Teg company. George, on the other hand, turns on Mike after he gets a better offer from a rival, breaking his elbow and shoulder in the process.
Mike returns to work after a long period of physical therapy, and finds himself defending a client who Hansen and his gang have been hired to murder.
The Ninja's Tenth (1964)
In 1572 Japan, a ninja is sent to assassinate a warlord. When this warlord's three ninjas hear of the plan, they set out to thwart it. Takeda Shingen is plotting to assassinate Oda Nobunaga. Chidoken, Takeda's most notorious spy, is being pursued by Nobunaga's Iga spies.
The ninja and their abilities are presented with seriousness and reality in this gritty black-and-white tale evocative of a film noir. Early Japanese ninja films, like samurai tales, were more concerned with authenticity.
Izo (nine) (2004)
The story starts in 1865, when the Shogunate is approaching the end of its reign but still capable of punishing its foes. Izo (Kazuya Nakayama) is one of these assassins, working for Hanpeida (Ryosuke Miki), a Tosa nobleman and Imperial supporter.
After killing a large number of the Shogun's troops, Izo is caught and crucified. Rather of dying, his rage propels him across time and space to modern-day Tokyo, where he merges with the city's homeless.
In this chapter, Izo transforms into a new, better murdering machine, his whole soul still resentful of his former existence's torture. The sword is his retaliation for his ancestors' execution by the powers-that-be.
 Ninja, assassins in a gang (1962)
One of the oldest representations of the ninja may be seen here. It follows Goemon Ishikawa, a rogue ninja, as he fights a warlord who despises Buddhist meditation. It's based on a popular book series, and there will be eight films in all, all of which will star Raizo Ichiwaka.
This is only for fans of old-school Japanese samurai films from the 1950s through the 1970s. The story may be a bit difficult to follow at times, but there is a lot going on in this film, as is typical of these kind of films. Ichiwaka was a well-known actor who appeared in a number of other shows before dying of rectal cancer at the age of 37 in 1969.
Shadow Hunters (number 7) (1972)
Shadow Hunters is set during the Tokugawa shogunate's fall and follows the questionable heroic acts of three ronin posing as "Shadow Hunters."
Instead of following their devastated fiefs and slain lords into seppuku, these three ronin have devoted their collective sword skill to stopping the government from rapping their daimyos for vital resources.
 The Ninja Appearance (1981)
Cole (Franco Nero) is a former American soldier who just returned from Japan after finishing his ninjutsu training. He goes to the Philippines to meet up with an old army buddy (Alex Courtney) and his beautiful wife (Susan George), who reside on a vast property that a rich CEO has set aside for oil production (Christopher George).
Venarius hires Cole's old ninjutsu school opponent, the fierce Hasegawa (Shô Kosugi), after Cole beats his stooges, setting the scene for an explosive showdown.
 Assassin Ninja (2009)
A Europol researcher in Berlin, Mika Coretti, shows her boss, Ryan Maslow, evidence of the existence of a network of assassin ninjas engaged in political assassinations. Ninjas are pursuing her, and the mysterious ninja Raizo is defending her.
Mika learns that Raizo is an orphan raised by the Ozunu Clan in Japan, and that his lord Ozunu has brutally trained him from childhood to be a vicious killer. Since he was a kid, Raizo has been attracted to the lovely Kiriko.
When Kiriko tries to escape the Ozunu Clan, Takeshi, Raizo's ninja brother, apprehends her and murders her. Raizo then turns on Ozunu, slashing him in the face. His ninja brothers are now after him as well. Mika tries unsuccessfully to convince Raizo to see Maslow. Will they be able to resist the assault of the Ozunu Clan?
 Ninjas of Beverly Hills (1997)
We could go so far as to call Chris Farley's masterpiece the whole "rainbow" of Ninja flicks, but that's about it. At this end of the comedy film spectrum, you'll also find 'classics' like Ninja Cheerleaders (starring George Takei).
Farley's physical comedy is extensively used in this film. The Orphan Ninja Raised by Ninjas to Exterminate Other Ninjas is the ultimate incarnation of both the White Ninja and the Orphan Ninja Raised by Ninjas to Exterminate Other Ninjas. Furthermore, and on purpose, humorous.
A newborn is rescued and raised by a tribe of Ninja warriors after a shipwreck. Haru (Chris Farley), on the other hand, never quite fits in and never grows into a respectable Ninja. However, in his awkward manner, and with the help of Gobei (Robin Shou), the good-natured and persistent Haru manages to triumph in the end.
Teenage Mutant Ninja Turtles is the third film in the Teenage Mutant Ninja Turtles franchise (1990)
A mysterious radioactive slime has turned four sewer turtles in New York into talking, upright-walking, crime-fighting ninjas. After coming into contact with a mysterious slime in New York's sewers, four turtles transform into smart pizza-loving humanoids who are taught in the art of ninja combat by the wise rat Splinter.
Michelangelo (Robbie Rist), Donatello (Corey Feldman), Raphael (Josh Pais), and Leonardo (Brian Tochi) are valiant warriors who are taught Ninjutsu by Splinter, their rodent sensei. It's up to the brave turtles to put a stop to a cruel rogue ninja, a former disciple of Splinter, who comes and spreads chaos throughout the city.
Azumi, number two (2003)
Azumi starts the film as the only girl among 10 warriors who had been trained from infancy by Jiji, a gray-bearded samurai. One day, Jiji tells them that they must pass the last exam before departing on the mission for which they have spent years preparing. Only five, including Azumi, survive after he couples them up.
This little gang, headed by Jiji, makes its way down from the mountain that is their only home. Their goal, we learn, is to thwart a plot by supporters of Hideyori, the son of dead warrior Toyotomi Hideyoshi, to overthrow Tokugawa Ieyasu, the current shogun.
In other words, they want to avoid another civil war like the one that devastated their own family until Ieyasy seized power from his rivals at the Battle of Sekigahara in 1600 and imposed peace…
 Shadow of a Tear (Ninja) (2013)
After his beautiful home life is shattered by a horrific act of violence, martial arts expert Casey Bowman follows the survival rule of fighting everyone and trusting no one.
The brave American pursues the murderer from Osaka to Bangkok to Rangoon, vowing revenge, with the help of a wise and clever sensei. The only clues he has are a series of victims with distinct barbed wire strangulation marks on their necks.
Casey must refine his razor-sharp reflexes and push his combat skills to new heights, even feigning death via deep meditation. Goro, the wicked drug lord whose secluded jungle factory is supplying the streets with deadly meth, is his target. To prepare for his last battle, Casey must finally become an invisible warrior worthy of the name Ninja.
Casey thinks he's captured his target, but an unexpected twist shows that his battle is far from over: he can't trust anybody.
The best ninja movies 2019 is a list of the best 30 ninja movies of all time. The list has been ranked by our readers and is in no particular order.