People love the idea of having puppies in their homes, but they may also worry about potential barking. After all, young puppies tend to bark often while they play or notice anything unusual near the house. However, you may need your dog to avoid barking, so you can sleep at night and not disturb the neighbors.
Some owners will purchase anti-bark devices to train their dogs, but people question if these work as humane options. Because of this, you should do your research to understand why anti-bark devices work, and why they remain humane options for dogs.
What Is an Anti-Bark Collar?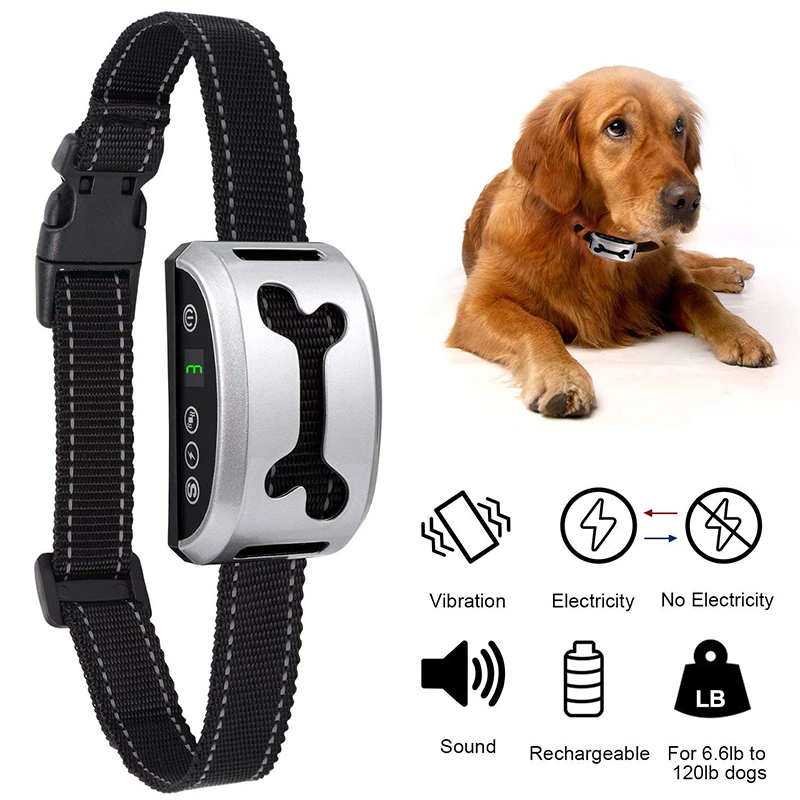 An anti-bark collar stands out as a device designed to prevent dogs from barking. These devices detect the decibel level a dog emits to determine if it should activate. Anti-bark collars can use multiple measures to prevent barking. This includes sound collars, vibration collars and shock collars.
Sound collars stick to a straightforward design by playing a noise whenever the dog barks. This design makes it so the collar distracts the dog and prevents him or her from barking. Since they won't want to hear this noise, they'll will learn to stop barking.
Vibration collars take a similar approach except they vibrate instead of making noise. Dogs won't like this sensation, so they will notice the collar starts to vibrate whenever they bark. This means they'll learn to stop barking, so they don't have to deal with the vibration.
As for a shock collar, it sends a shock through the dog whenever he or she barks. This sensation goes throughout the body, so the dog won't want to feel it. Some will also include a warning beep, so the dog knows to stop barking before the collar activates.
Are Anti-Bark Collars Cruel?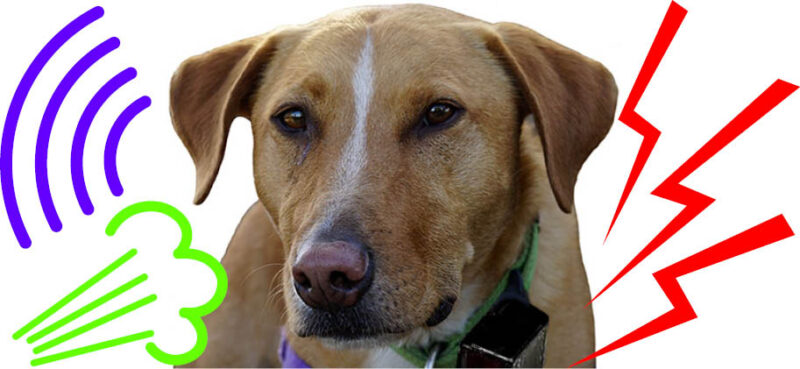 Some people question whether anti-bark collars might be cruel. This concern may not arise as often for sound or vibration collars, but people do worry about pet safety when it comes to shock collars. These concerns arise for multiple reasons.
People worry the collars may cause pain.
People feel the collars can make dogs fearful.
People worry the collars can cause permanent problems.
These points stand out as understandable concerns since people want to ensure they can find shock collars safe for their puppies. After all, they want to make sure they don't harm their puppies or cause problems, so they want to remain cautious. With this in mind, do anti-bark devices pose any dangers to animals?
First, we want to address the pain point. Some people worry the shock collars may cause too much pain for a dog. Luckily, most shock collars come with shock levels, so you can set them to a lower level and avoid any serious pain. However, the amount of pain comes down to the level and type of collar you purchase, so you need to do your research.
If you check out reviews for different collars on goodpuplife.com, you can find collars that only give sound and vibration feedback, up to light shocks equivalent to touch along with stronger shock feedback. This way, you can find the collar that you think is most suitable for your pup.
While all cases are different, it's generally recommended not to use an anti-bark collar on puppies under 3 months old. These puppies are usually too young to understand negative reinforcement training, so are better trained with positive reinforcement when they're quiet.
Barking is an instinctive act for most dogs, so constant discouragement from this behavior can result in stress and fear in them if done excessively. However, this depends on the intensity of the shock and how your pup reacts. For example, most large dogs will receive a light shock and only find it mildly annoying. Because of this, you can use these collars on most without worrying about scaring your furry friend. If your dog does show signs of fear or distress, you should adjust the shock level or try a sound/vibration or vibration collar for them.
People may also worry the collars can cause permanent harm or problems for a pup. Quality anti-bark collars go through extensive testing to ensure they work correctly and safely for dogs. Otherwise, they couldn't go on the market, or you would see lawsuits relating to the corresponding collars. That said, you should always check reviews and be wary of a deal that seems too good to be true.
In short, you can have your puppy wear an anti-barking device while remaining humane, so long as they meet a minimum age threshold (at least 3 months). While shock collars work well, you can also look into vibration or sound collars as solid alternatives for your situation.
What Makes a Good and Humane Anti-Bark Collar?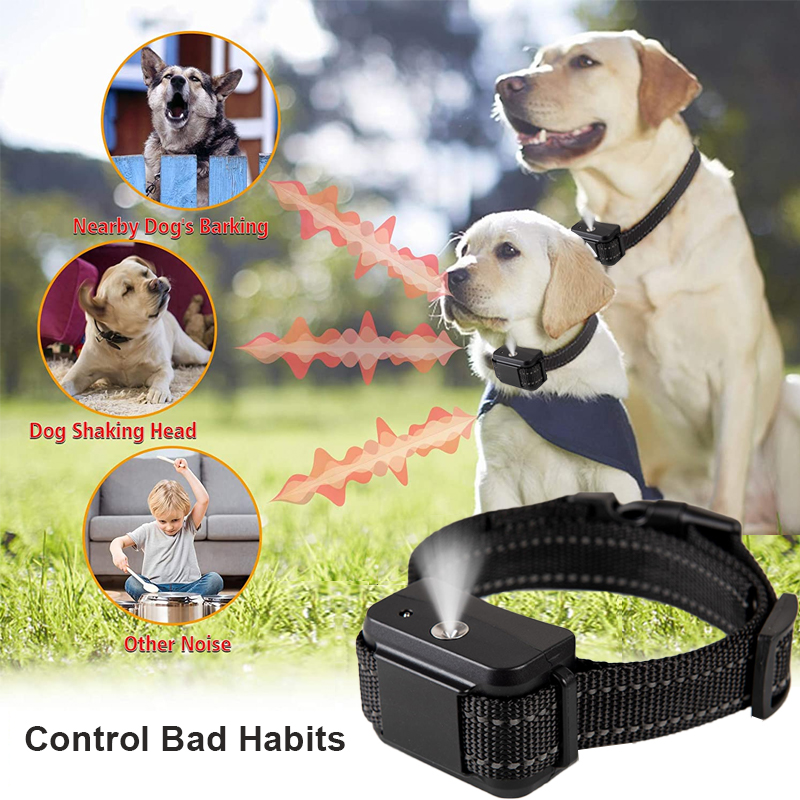 Collars vary in multiple ways, so you may wonder how you can identify a good and humane anti-bark collar among less-ethical ones. Luckily, you can keep multiple points in mind to help you figure out which collar will work best for your dog.
Does the collar include multiple levels or stick to a light shock?
What do the online reviews say about the collar?
Do I know someone who uses shock collars regularly?
First, you should see what type of shock the collar causes. For example, if it includes multiple shock levels for you to choose from, you don't need to worry as much. You can stick with the lower levels and avoid any potential issues. The same applies to light collars since they won't cause any pain as explained in the link above.
If you still don't know about the collars, you can look through online reviews to determine if you think the collar will work well for your dog. For example, if you see mostly positive reviews mentioning how they work well, you can go with the collar. However, if tons of people share negative experiences related to the collar, you should avoid them.
It never hurts to talk with someone who owns and uses anti-bark devices. These work great since you can talk with a person you trust and get a direct opinion on the collars used. From there, your friend could direct you to a specific type of collar and help you narrow down a choice based on what works for your pup.
It comes down to doing your research, so you can find the best anti-bark device based on what your dog needs. Either way, you can find humane and good collars for your dog to wear regularly.
Wrap-Up
When it comes to it, you can enjoy safe anti-bark devices and even find ones for your puppy. Depending on the situation, you can even identify ones designed for small dogs or puppies, so you can make sure you find the best option available. Either way, you don't need to worry about the devices causing pain or serious consequences for your puppy.
It doesn't hurt to look into the options available and choose the best anti-bark collar. After all, you need to get your dog to stop barking at home, so you can protect your dog while controlling the barking.