Laser cleaning machines have been around for decades and are becoming increasingly popular. This technology has revolutionized the way industries clean materials, surfaces, and objects.
Through a process of direct or indirect laser ablation, these machines can remove any kind of dirt from metal to plastic with unprecedented precision and accuracy. In this article we will explore what laser cleaning machines are, how they work, and why they are so effective in industrial applications.
Well also discuss some of their advantages over traditional methods like sandblasting or chemical solutions that can be hazardous to your health if not handled properly. So lets dive into it!
Introduction to Laser Cleaning Machines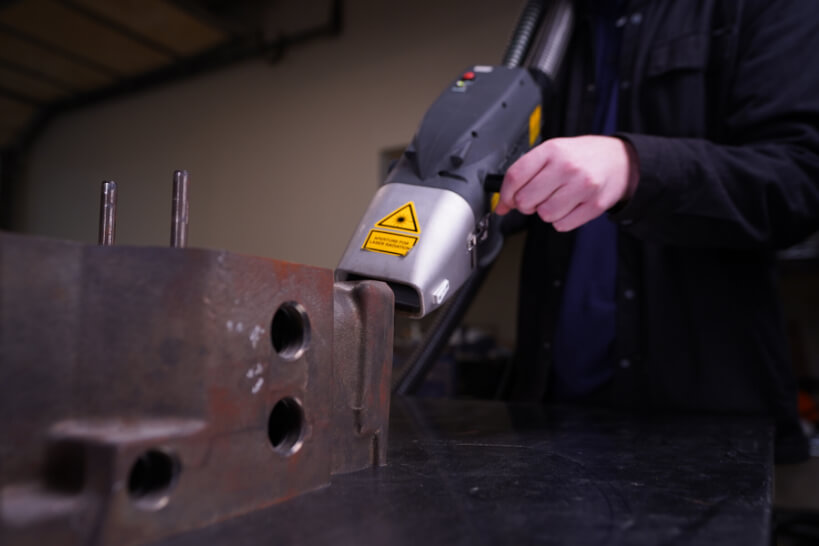 Laser cleaning machines are an innovative technology that can be used for a variety of tasks. From removing rust and corrosion from metal surfaces, to restoring old paintings and sculptures, laser cleaning machines offer solutions for many needs. This article will explore what laser cleaning machines are, how they work, and the advantages of using them in various applications.
Well also look at some potential drawbacks to consider before purchasing one of these devices. By understanding this technology better, youll be able to make an informed decision about whether it is right for your particular application.
So lets get started!
Benefits of Using Laser Cleaning Technology
Laser cleaning machines offer a wide range of benefits for many industries.
Perhaps one of the most beneficial features is that it offers non-contact, chemical free cleaning without producing any hazardous waste. This means no need to worry about applying and disposing of hazardous chemicals, as well as dealing with potential liability issues related to them.
As an added benefit, laser cleaning also does not require additional supplies or equipment – just the machine itself and some electricity. The process is much faster than traditional methods like sandblasting or scrubbing which can take hours depending on the size of area being cleaned.
Laser Cleaning Machines are also capable of providing precision cleaning by using a variety of settings designed for different jobs such as removing rust or paint from metal surfaces, oil deposits from parts, and tarnish from jewelry pieces. Additionally, it provides quick turnaround times on projects due to its efficiency in completing tasks quickly and accurately while still achieving high quality results every time.
Another advantage offered by these machines is their ability to clean multiple materials without having to switch tools between them; they can easily switch between metals, plastics and even glass with little downtime required in order to do so. In addition, laser cleaners produce very little noise compared to other types of machinery used for surface preparation – this makes them ideal for use in areas where noise pollution must be kept at a minimum such as hospitals or public facilities like libraries where noisy activities may disrupt patrons' experience negatively.
Finally these machines are easy-to-use making them great options even if you have limited experience operating specialty machinery.
Types of Lasers Used in Cleaning Machines
Lasers are an essential component of laser cleaning machines, allowing them to work quickly and effectively. There are a variety of types used in these machines, each designed for different tasks and results.
YAG lasers are the most common type employed in laser cleaning systems due to their ability to ablate layers on surfaces with precision accuracy without damaging the underlying material. These lasers have a wavelength that is primarily absorbed by metals or other materials with high reflectivity such as glass and plastic.
Carbon dioxide (CO2) lasers are another type of laser commonly found in industrial laser cleaning applications, particularly for etching or engraving onto metal surfaces. CO2 lasers create thermal energy which can be used to vaporize dirt particles from delicate parts like medical instruments or jewelry quickly and safely without causing any additional damage.
For difficult-to-reach areas, ultraviolet (UV) excimer lasers can be utilized as they emit short pulses of energy at a very low power level to remove surface contaminants without affecting the substrate beneath it. Finally, diode pumped solid state (DPSS) lasers provide greater control over marking applications where intricate patterns need to be etched onto metal surfaces with tight tolerances required for surgical tools and automotive components alike; making them perfect for use in advanced machine vision projects as well.
Conclusion
In conclusion, Laser Cleaning Machines are an innovative technology that can be used to effectively remove contaminants from a variety of surfaces. This versatile cleaning method is suitable for use on delicate parts and components as well as heavy-duty industrial applications.
The process is fast, efficient and cost effective when compared with traditional cleaning methods. Its no wonder that laser cleaning machines have become so popular in recent years – their ability to clean without causing any damage makes them the ideal solution for many different industries.