When it comes to shipping, choosing the right pallet can make all the difference. Whether you are a business or an individual, selecting the appropriate pallet for your needs is essential.
While there are multiple factors to consider when making this decision, understanding Shipping 101: What Kind of Shipping Pallets is Right for You can provide valuable insight into making an informed choice. This article provides information about different types of pallets and their uses to help you make the best selection for your shipment's specific requirements.
We will discuss key features such as weight capacity, durability, and cost-effectiveness so that you can rest assured knowing that your items arrive safely at their destination. By exploring these topics thoroughly we hope to give you all of the knowledge needed to select just the right shipping pallet for your needs!
Understand Your Shipping Pallet Options
Navigating the world of shipping pallets can be a daunting task. With so many materials and sizes to choose from, it can be difficult to know where to start when looking for the best option. Fortunately, understanding your options is easier than you think! Before making a decision on which type of pallet is right for your needs, it's important to consider several factors such as size and weight capacity, the material used (wood or plastic?), cost-effectiveness, and durability.
Knowing these details will help you decide if a standard 48×40 wooden pallet or an oversized plastic model is more suitable for your needs. In addition to deciding between wood and plastic material types, other features must also be explored including stackability, fire retardancy ratings, resistance against pests such as rodents or insects, and ease of cleaning/sanitization.
Additionally; knowing the costs associated with each type could make all the difference in selecting the perfect shipping solution for you! Once you have gathered this information together and considered all of your options – then comes the time to make an informed decision about which pallet suits your requirements best. Don't forget that researching industry regulations relating to any particular product may also influence what kind of shipping pallet is ultimately chosen by manufacturers too!
Consider Factors Such as Weight and Size Capacity
When it comes to selecting the right shipping pallet for your needs, two factors should be considered: weight and size capacity. The weight of the pallet is important because it will determine how much cargo can safely be loaded onto a single pallet before straining the structural integrity of the unit.
Size capacity also plays a key role in ensuring that all items fit properly on one or multiple pallets; if not, then you could end up with wasted space or having to use extra packaging materials to secure each item individually. Additionally, consider any other special requirements such as climate control needs and durability when making your selection.
Taking into account these factors will help ensure that you select the most suitable shipping pallet for your unique shipping needs.
Select the Right Pallet Material for Your Needs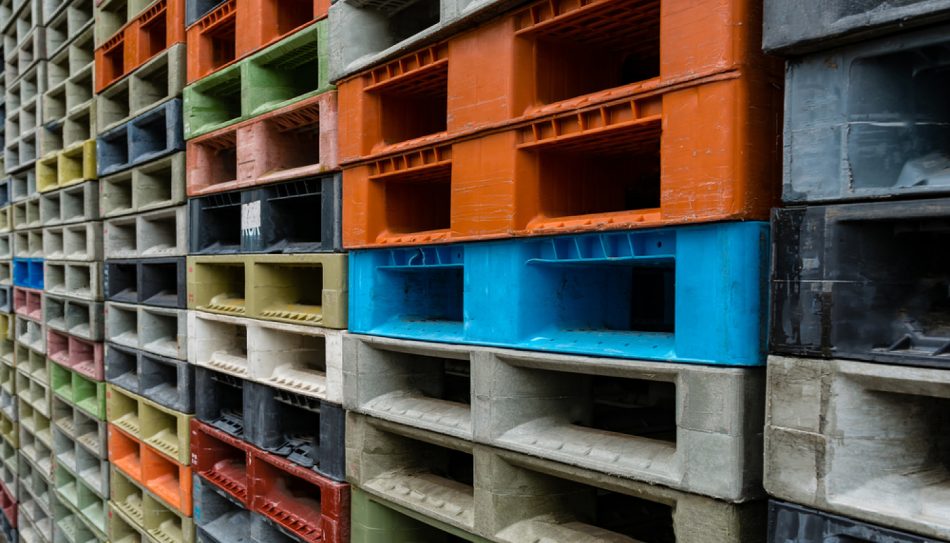 Selecting the right shipping pallet for your needs is essential to ensure your goods are transported safely and efficiently. There are a variety of different materials available, from wood to plastic, and each comes with its advantages and disadvantages.
Wooden pallets offer strength and durability but can be susceptible to moisture damage or rot over time. Plastic pallets provide lightweight transportability as well as stability, but they can also become brittle due to prolonged exposure to sunlight or extreme temperatures.
Metal pallets provide superior strength while still being relatively lightweight compared to other options, though they tend to cost more than other types of material. When deciding which type of material is best suited for your needs it's important to consider factors such as weight capacity needed, budget constraints you may have in place, storage requirements on-site at both ends of transit, and environmental conditions that the product will need protection from during shipment.
With so many different variables involved in choosing the best solution for your cargo, it pays off in the long run when taking ample time up front researching all possibilities before committing any resources towards specific selections.
Understand Your Shipping Pallet Options
When it comes to understanding your options for shipping pallets, several factors must be taken into account. Size and weight capacity are essential elements when selecting the right pallet for your needs; the wrong size or insufficient weight capacity can lead to damaged goods due to overloading.
Additionally, material type is another factor that should be considered; wood and plastic offer different features such as durability, cost-effectiveness, and stackability so it's important to explore these possibilities before making a decision. Other important considerations include fire retardancy ratings, resistance against pests such as rodents or insects, and ease of cleaning/sanitization.
Knowing about all of these details will help you select just the right pallet for your requirements!
Conclusion
The right shipping pallet for you depends on your needs and budget. Plastic pallets from Favosplastic are a great option because of their superior durability, cost-effectiveness, and hygienic qualities. They can be used in many applications, including food production, pharmaceuticals, and retail operations.
With plastic pallets, you don't have to worry about pests or damage due to chemicals in the environment. Plus, they're lightweight and easy to store when not in use.
Whether you need a standard pallet size or something custom designed for your business-specific requirements, Favosplastic has you covered with quality products that will help ensure your shipments arrive safe and sound at their destination every time!