Let's face it – if you've decided it's finally time to upgrade your home theater setup, you know you need to get your hands on a soundbar as you already have the best projector for a living room. But what about connecting it to your projector for an even better home theater experience? Not to worry – with this step-by-step guide we'll get you on your way to enjoying your home theater with all the sound you could want, ready to feast your eyes on all your favorite movies and shows. We'll show you the ins and outs of connecting the soundbar and projector, so you can be sure everything's in line and ready to go. So put your trust in us, relax, and let's get to connecting!
Quick Response to Key Question
Most modern projectors have HDMI inputs, meaning you can easily connect your soundbar via an HDMI cable. Before connecting, check that your soundbar is compatible with your projector and read the instructions for both devices if necessary.
When it comes time to connect your soundbar to a projector, there is certain equipment you should have on hand to ensure the process runs smoothly. You'll need either a standard digital optical audio cable or an HDMI cable for the connection, depending on your soundbar and projector model. In addition, you may require a 3.5mm audio cable depending on your configuration and hardware capabilities. Deciding which type of cable to use depends on the inputs available on your soundbar and projector, as well as the audio output supported by each device. For instance, if your soundbar has an HDMI input and your projector supports HDMI audio output, then you should use an HDMI cable for the connection. However, if your soundbar has a digital optical audio input and your projector only has analog outputs like RCA jacks or 3.5mm headphone jacks, then you will need both a digital optical cable and a 3.5mm audio cable for connecting them together. It's important to note that using an HDMI cable will provide the best picture with high resolution sound, but it's not always the most practical option for all set ups when it comes to cost or availability of compatible hardware. Therefore, in order to get the best results from connecting a soundbar to a projector – or any audio equipment for that matter – it's important you are aware of both your speakers in/output port capabilities prior to deciding which type of cables and connectors are needed for it.Now that you know what you need in terms of hardware requirements, let's look at what types of cables and connectors are needed when connecting a soundbar to a projector.
According to SeaTurtle PA, HDMI is the most preferred connection option for connecting your soundbar to a projector.

Soundbars use a variety of connection types including Bluetooth, AUX, optical, and HDMI.

According to CNET, HDMI connections are capable of streaming high quality audio up to 8 channels at once which makes it perfect for home theater systems with multiple speakers.
What Types of Cables and Connectors are Needed?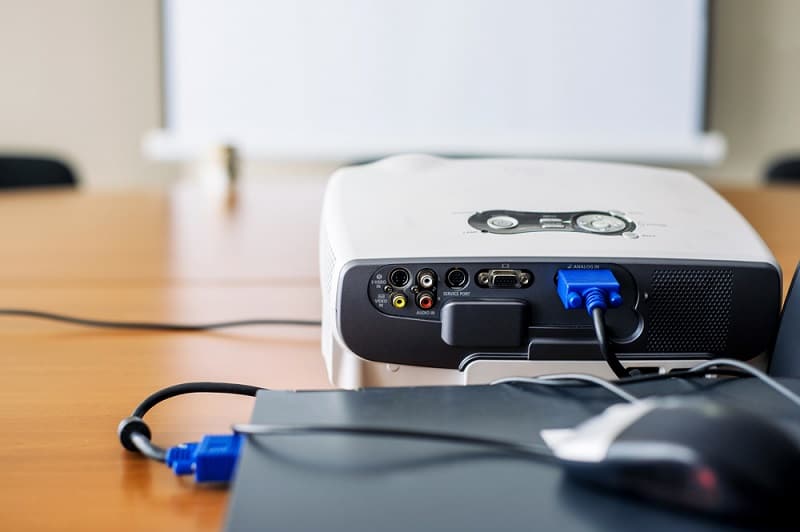 When connecting a soundbar to a projector, it is important to use the correct type of cables and connectors, as using the wrong ones can lead to connectivity issues or even damage your projector or soundbar. Depending on the make and model of your projector and soundbar, you may need to use several types of cables and connectors. The most common type of cable used for connecting a soundbar to a projector is an HDMI cable. These are usually the best option as they have high enough bandwidth and audio capabilities to carry both video and audio signals between the two devices. However, some older projectors may not support HDMI, so in such cases, an alternative connection such as RCA, S-Video or VGA may be necessary.  In addition to the type of cable, it is also important to consider what type of connector you need to attach the cables to each device. For HDMI connections, most projectors and soundbars will require an HDMI Type A connector. In some cases, more advanced types such as HDMI Type B or C may be necessary depending on the equipment. Overall, it is essential to research what type of cables and connectors are required for your specific projector and soundbar before attempting to connect them. Using the wrong type can lead to problems with picture or sound quality or worse – damage either piece of equipment. With this in mind, let's now move on to discuss the step-by-step process for connecting a soundbar to a projector.
Step-by-Step Guide for Connecting a Soundbar to a Projector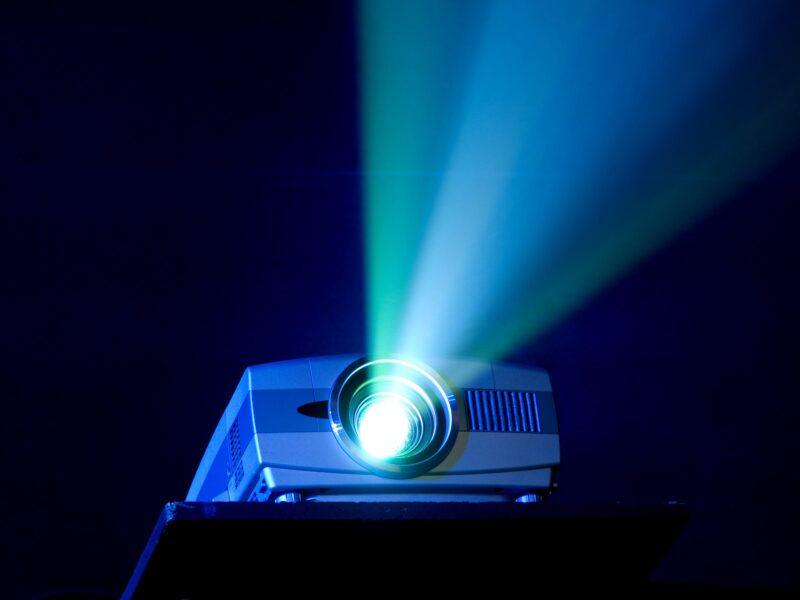 Connecting a soundbar to a projector can be a straightforward process that offers a significant boost to the audio quality of your movie or presentation. Below is an easy, step-by-step guide for how to make this connection:1. Begin by setting up your projector and soundbar in their respective locations. Make sure your projector is placed at least 6 feet away from the soundbar. This will help optimize the sound quality.2. using the appropriate cables. If connecting with HDMI, use an HDMI cable that goes from the projector's HDMI output port to the HDMI input on the soundbar. For optical connections, you will need an optical digital audio cable from the projector's optical output port to the input on the soundbar.3. You also will need an AC power adapter for both your projector and soundbar in order to plug them into power outlets.4. After connecting all cables and power sources, switch on your devices, and configure settings like channel levels, equalizers, and other audio enhancements according to your specific setup via the menu of each device separately.5. Finally, test everything out by playing something out loud in order to check whether audio playback is working correctly on both devices and that they are configured correctly. Now that you have connected your project and soundbar together are ready to move onto configuring your audio system and hardware so that you get the best possible cinematic experience in your home theater setup!
Configuring Your Audio System and Hardware
Before you connect a soundbar to your projector, proper configuration of the audio system and hardware is necessary. There are many resources online for setting up and connecting audio systems, so do your research and familiarize yourself with the setup process. Doing so will make it easier to troubleshoot in the event that there any connection or configuration issues. First and foremost, you need to determine whether your projector has built-in speakers. If it does, you'll have to decide if you want to use those speakers in addition to the soundbar. Using two separate audio outputs may provide better overall sound quality, but the setup may be complicated and expensive. Alternatively, you can disable the projector's built-in speakers and leave them disconnected. Next, figure out which type of cable needs to be used to connect the soundbar and projector together. This depends on the types of audio output ports available on both devices. The primary source of confusion for many people is that not all stereo systems and projectors have 3.5mm input/output jacks solely for convenience purposes. Before purchasing a cable, double check which type is needed for both components in order to save yourself money as well as frustration down the line when attempting to set up your audio system. Once you've configured your audio system, it's now time to determine the source of audio being output from the projector. When connecting a soundbar and projector together, this is usually done via digital or analog cables. If a digital connection isn't available on either device, then an analog supply can be used instead; however, this will result in degraded sound quality compared to digital inputs/outputs. Additionally, if digital signals are supported by both components, make sure they meet a compatible specification (e.g., HDMI ARC).No matter what connection method is chosen for your soundbar + projector setup, proper configuration of the audio system and hardware prior is key for ensuring maximum performance and compatibility between components. After configuring your audio system and hardware, we now move onto determining the source of audio being output from the projector – discussed in greater detail in the following section.
Determine the Source of Audio Being Output from the Projector
Before beginning the process of connecting a soundbar to a projector, it is important to first determine the source of audio being output from the projector. Depending on the type of projector, many models offer both an analog and a digital audio output. The analog output typically requires a 3.5mm cable and can be connected to most soundbars with ease. Therefore, if a projector has an analog audio output, this would usually be the most logical connection to make. On the other hand, if the projector only has a digital audio output (such as an HDMI port or DisplayPort), then connecting a soundbar may not be as straightforward. Some soundbars are capable of processing digital audio signals themselves by using either optical or coaxial outputs; however, in some instances an additional audio converter may be required for this kind of connection. Ultimately, it is important that any soundbar chosen will have the right capabilities in order to successfully receive audio through its input ports such as HDMI, optical and/or coaxial outputs. Once you have determined which type of port(s) the projector has available for connecting an external speaker, you can proceed to the next step in connecting your soundbar to your projector: Audio Input from the Projector.
Audio Input from the Projector
When it comes to hooking up a soundbar to a projector, having an understanding of the audio input from your projector is essential. In general, most projectors have an analog or digital audio port through which an audio cable can be connected to a soundbar.Analog ports, also known as mini-stereo phone jacks, are usually marked by two circles with small arrows pointing towards each other; this symbol is usually shown next to the connector. A typical analog connection will involve using RCA cables (right and left) to plug into both the projector and the soundbar's line-in port. These provide only mono sound, and are always unbalanced.Alternatively, digital connections use optical and coaxial cables to send data between devices. An optical connection requires a 3.5mm TOSLINK cable for data transfer, while a coaxial connection uses standard red and white RCA plugs. Digital ports are available on many mid-range projectors and high-end home theater systems and can provide better audio quality than an analog connection.The method you choose will largely depend on the types of ports offered by your projector model and soundbar. Make sure that whichever method you opt for, both your projector and soundbar have compatible inputs – otherwise your setup won't work correctly. With that out of the way, we can now move on to setting up the soundbar with the projector.
Set Up the Soundbar with the Projector
To begin setting up your soundbar with the projector, you will need some key items. First, determine what type of soundbar you have and make sure it is compatible with the projector (e.g. does it have RCA or Aux inputs?). Then gather the appropriate cables for connecting your soundbar and projector such as an HDMI cable, 3.5 mm connector, or optical cable. Once you have the necessary equipment in hand, it's time to set up your system. Start by plugging one end of the cable into the audio out port in your projector. Next, connect the other end of the cable to one of the inputs on your soundbar (e.g. HDMI input). Finally, use a power source to complete your setup. Depending on whether you're using an analog or digital connection, you may also need an adapter to finish connecting the two devices. When dealing with analog connections like RCA or Aux cables, there can be debate about which connection produces better audio quality: RGB cables or digital optical cables? Many audiophiles argue that despite being older technology, RGB cables offer a full and rich spectrum of sound that isn't possible through digital methods. Others believe digital connections provide more clarity than traditional analog methods. Ultimately, the choice is dependent on personal preference and type of equipment being used. With both devices properly connected, now is a good time to test out your setup before continuing on to the next step – testing the audio connection.
Testing the Audio Connection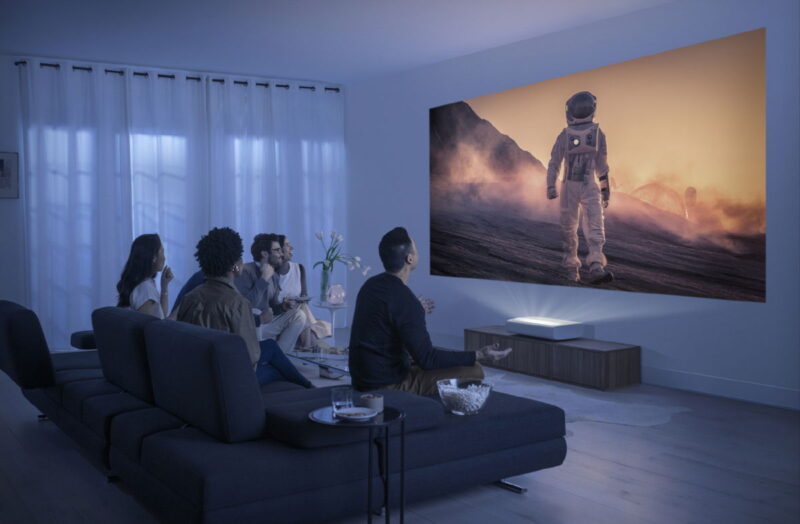 Once you have connected the projector and soundbar, it's time to test your audio connection. This is an important step to ensure that everything is working properly. You should test both audio inputs, one on the soundbar and one on the projector, separately. For testing audio input on the projector, you can use a standard pair of headphones. Before plugging in the headphones, ensure that the 'Line Out' jack on the projector is switched off. Now plug in the 3.5mm pin of your headphone into this jack and switch 'Line Out' to 'On'. If you hear the audio now, then it means that the connection with projector is successful. Similarly, if you want to test audio input on the soundbar, you can use a standard RCA cable with two-pronged ends. Connect one end of this cable to your projector's 'Audio Out' port and another to your soundbar's 'Audio Line In' port. Now turn on both devices and play some audio from either side. If you hear your audio clearly coming out of the soundbar, it means that your connection is successful too. If you're unable to hear any sound after following these steps, there might be certain issues like settings related problems or wiring faults. In such cases, go through your setup once again and check if all connections are secure and properly done. Additionally, double-check all settings according to the instructions provided in the user manual for both devices – most issues arise due to incorrect settings. Once you have tested both connections successfully and confirmed that everything works as expected, you can move onto the next step: drawing a conclusion about your setup. In this section, we will discuss what further action(s) needs to be taken in order to make sure that your setup performs optimally and efficiently for a long period of time.
Must-Know Points
Testing audio input on the projector and soundbar is an important step to ensure that your setup is functioning properly. To test the connection, use a standard pair of headphones for the projector and an RCA cable for the soundbar. If no sound is heard after setting up, there may be settings-related problems or wiring faults. After ensuring that everything works as expected, draw a conclusion about your setup to make sure it operates optimally and efficiently over a long period of time.
Conclusion
A soundbar can help make a home projector system more enjoyable and functional. With the right steps, setting up a soundbar with a projector is relatively simple. Depending on the specific setup and components, the process may be more involved than described in this article, but any qualified audio-visual technician should be able to assist with install or setup questions. Once that's done, you can enjoy your soundbar and projector combination. Soundbars provide an immersive listening experience for home theatre setups, offering deeper bass and surround sound capabilities at an affordable price – facilitating a much better auditory experience compared to simply using the basic speakers that come built-in with projectors. That said, there are advantages to using the projector's internal speakers in certain cases. For those who need flexible placement of their sound sources for optimal acoustics (or for those working within tight budget constraints) it might be best to use the projector's basic speakers and forego attaching a soundbar altogether. In short, just remember that connectivity and tools vary across different brands and models of soundbars and projectors. Additionally, consumers should keep in mind that soundbar processing capabilities vary widely, so research is key when deciding which soundbar will best meet their needs while still being compatible with their existing projector. With all that taken into account, however, connecting a soundbar to a projector should now be an easy task!
FAQ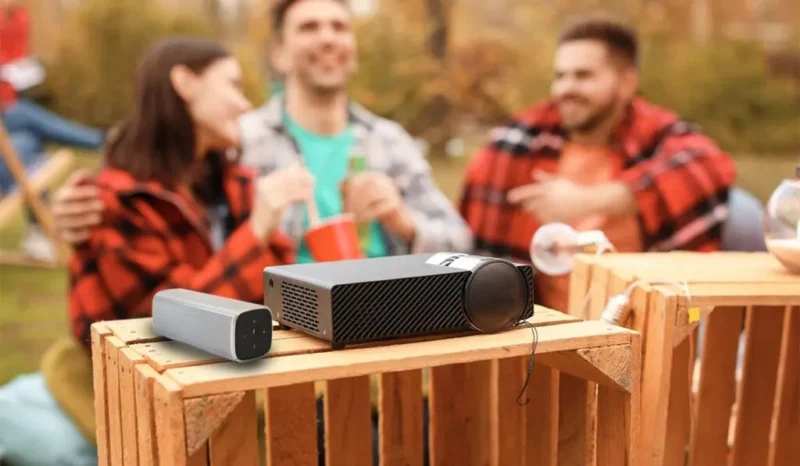 What cables do I need to connect a soundbar to a projector?
The cables that you will need to connect a soundbar to a projector will depend on the type of soundbar and projector that you have. For the most common connection, you will need an HDMI cable from your soundbar to the HDMI port on your projector. You may also require separate audio cables (like 3.5 mm or RCA) if your projector doesn't have audio outputs or built-in speakers. If your soundbar supports Bluetooth or Wi-Fi connection, you may not need any physical cables at all. To be certain, please consult your user manuals for more detailed information.
Are there any special settings required to get sound from the projector to the soundbar?
Yes, there are certain settings that you will need to change in order to connect your projector to a soundbar. The most important of these is adjusting the audio output settings on the projector. You will need to convert the audio signal from the projector into one that is compatible with the soundbar. Depending on the type of projector you have, this may require changing its HDMI Audio Output Setting or using an external adapter such as a Digital Optical Audio converter/splitter. Once you've made these changes, you can then connect your soundbar directly to the projector or use additional cables or wireless receivers to complete the connection.
What effects will connecting a soundbar to a projector have on audio quality?
Connecting a soundbar to a projector will have a tremendous impact on audio quality. A soundbar is capable of delivering high-quality sound which is vastly superior to what the speakers within the projector can produce. The additional channel output and bass response from a dedicated sound system versus the HDMI output of most consumer projectors will provide a much clearer, more accurate sound with increased volume and range. Connecting a soundbar will also eliminate any distortion or echo commonly associated with underpowered speakers and results in a far more immersive listening experience.